Pacific Direct Line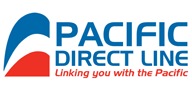 To contact Pacific Direct Line (PDL) Auckland, call +64 9 308 3939 or email salespdl@pdl123.co.nz.

Pacific Direct Line, a subsidiary company of PDL International Pte Ltd, offers extensive links from Asia, USA and Australia into Pacific destinations such as Noumea, Papeete, Port Vila, Santo, Suva, Lautoka, Norfolk Island, Apia, Nukualofa, Pago, Rarotonga, Aitutaki, Wallis, Futuna, Funafuti, Tarawa ( Kiribati ), Majuro and Christmas Island. In July 2015 Pacific Direct line also became New Zealand agents for Mariana Express Lines which opened up services to Majuro, Ebeye, Kosrae, Pohnpei, Chuuk, Saipan, Yap, and Koror.
Visit Pacific Direct Line website
Service Locations
Rarotonga / Nukualofa Apia Pago / Fiji Noumea Vila Santo / Kiribati Majuro Wallis Futuna Funafuti / Papeete with partnerships ex Auckland, Australia & Asia.