Neptune Pacific Line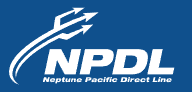 To contact Neptune Pacific Auckland, call +64 9 302 5360 or email nz.sales@neptunepacific.com.

To contact Pacific Forum Line Auckland, call +64 9 356 2333 or +64 9 255 2500 or email nz.sales@pacificforumline.com.

Inspired by this Latin mythology, we chose the name Neptune Pacific Line. We provide containerised, over-dimensional cargo and bulk liner shipping services. Our dedicated teams in Australia, New Zealand and Fiji are focused on delivering excellent customer service and outstanding schedule integrity. Through our service network and those of our strategic partners, we can connect you to your customers across the globe. Through connecting carrier agreements and third party agency agreements, Neptune provides liner services between Fiji, Asia, the Indian subcontinent, Europe, South Africa, North America, Australia, Nauru, Norfolk Vanuatu & the Solomon Islands.

2014, Neptune Pacific Line acquisitioned both Pacific Forum Line and Polynesian Shipping Line. This enhanced Neptune Pacific Line's reach into the South Pacific further; adding to their established network in Nauru and the Solomon islands by gaining agents in Tonga, Samoa, American Samoa, Vanuatu, Cook Islands, and Papua New Guinea. In 2016, the Polynesian Shipping brand was discontinued and its knowledge, people, agents & services absorbed into Pacific Forum Line under the dominion of Neptune Pacific Agency.