Matson Shipping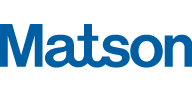 To contact Matson Shipping's Auckland office, call +64 9 302 2204 or email sales@matson.co.nz.

On the 7th January 2013, Matson, a leading US carrier, announced they have commenced operations of the primary assets (including Vessels) formally owned by REEF Shipping. Now under new ownership from Matson Line, the REEF Shipping Brand for these "assets" has been discontinued. Matson have registered in NZ as "Matson South Pacific Ltd", wholly owned by Matson Inc., a US company. Matson have indicated that they will continue to "provide service to REEF's historical core trade lanes" including operating their LCL Depot in Onehunga Auckland. Matson Shipping service Pacific destinations such as Port Vila, Santo, Suva, Lautoka, Niue, Apia, Nukualofa, Pago, Rarotonga, Aitutaki, Honiara, Nauru and Vavau. In June 2016 Matson announced a new service linking Hawaii with the USA, Fiji, Apia, Nukualofa and Pago.

Matson owned vessels include:

Olomana – formally the Southern Reef – In Hawaiian, Olomana means, "divided hill". According to ancient Hawaiian legend, Olomana was a giant warrior who ruled the lands on the Windward side of Oahu from Kualoa to Makapu'u. During this time ʻAhuapau, the king of Oahu sent the great warrior Palila to battle Olomana, subsequently cutting Olomana in half. His upper torso was said to be in the Pacific Ocean near Kāneʻohe Bay leaving his lower half where Mount Olomana is today.

Liloa - formally the REEF Samoa - King Liloa followed his father Kiha and was sovereign of Hawaii. He kept his court at Waipio Valley in the Ewa District of the Island of O'ahu. "Liloa is represented as an affable, pleasure-loving monarch, of easy manners, but a strict disciplinarian. He was much given to touring through the districts of his kingdom, by which means he acquainted himself with the needs of his people and was able to repress the arbitrary encroachments of the chiefs on the rights of the landholders under their authority. In this way he gained popularity with the common people.